Everything About Wheel Speed Sensor - Types, Symptoms, Testing And More
Created Date: 2022-07-04 15:21:57
0 Comments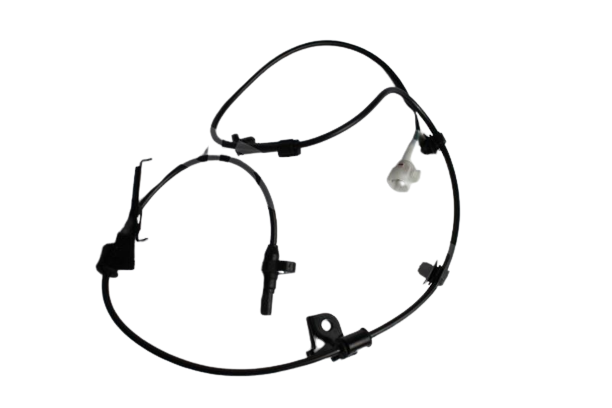 What Is A Wheel Speed Sensor?
A wheel speed sensor or vehicle speed sensor, acts as a speed measuring device to the tyres of your vehicle. Newer model vehicles are designed with technological advances, to equip drivers with essential speed informative. Anti- lock braking system and vehicle dynamic control system are a few features to mention that help display important speed data.
What Are the Different Types of Wheel Speed Sensors?
Wheel speed sensors are available in two types, magnetic inductive (passive) and magneto resistive (active).
Listed below are the two types explain:
1. Magnetic Inductive (Passive)
Passive wheel speed sensors produce an alternative current signal, which allows frequency changes in accordance to the speed of your vehicle's tyres. When you turn the tyres of your vehicle at higher speeds, a signal is then produced.
In more simple terms, the passive wheel speed sensor acts as a generator that creates an alternative power supply to make the necessary data shareable. This data plays a vital role in vehicle safety as higher levels of speed increase the chances of road motor accidents.
2. Magneto Resistive (Active)
Active wheel speed sensors are able to determine the rotational speed of tyres without having to use contact.
Unlike passive wheel speed sensors that are able to generate power on sole ability - active wheel speed sensors distribute a magnetic field that is distributed evenly (to a target wheel, also referred to as a tone ring) to generate an alternate current.
Is It Safe To Drive With A Faulty Wheel Speed Sensor?
Ignoring a faulty wheel speed sensor can affect your vehicle's overall control performance, including traction and stability. Although a faulty wheel speed sensor may seem like a minor issue, this fault can potentially cause fatalities and unnecessary fines. Paying attention to your vehicle's minor glitches ensures you maximum safety and serves as responsible driving.
The signs and symptoms of a failing wheel speed sensor are explained and listed below.
Read through carefully to identify if your vehicle may be experiencing any of the following:
1. Illuminating Engine Light -
The engine light feature of your vehicle has been designed to display important information for maximum driving safety. One of those important features include the wheel speed sensor, a fault in this part is usually displayed as a sign of a flashing engine light. The ABS warning and traction control light illuminating is further confirmation of a wheel speed sensor fault.
2. Speedometer Problems -
A wheel speed sensor plays a vital part in the functionality of your vehicle's speedometer. This means that a faulty speedometer can be the reason for poor readings. This can become difficult and dangerous to abide by the road speed limitations, therefore ensure that repairs are performed asap.
3. Cruise Control Failure -
In the event of a faulty wheel speed sensor, an alternative current is unable to be produced - this disables your vehicle's cruise control system. Cruise control failure is a common sign of a poor wheel speed sensor as speed readings can not be made available.
4. Poor Clutch Response -
Your vehicle's inability to apply the clutch pedal is a sign of a faulty wheel speed sensor. Other mechanical failures that this may include are overheating and higher usage of fuel consumption. This usually happens due to your vehicle's transmission system and engine not being in synchronization.
Note that the above symptoms are not as accurate as a vehicle diagnosis, therefore perform testing should you suspect a faulty wheel speed sensor.
Tools That Are Used To Perform Testing.
Torque wrench
Tyre iron
Flying leads
Floor jack
Voltmeter
Vehicle owner manual
Jack stand

How To Test A Wheel Speed Sensor?
Testing to diagnose the problem is probably one of the easiest ways to avoid spending money- and experiencing further mechanical complications.
Follow these step by step instructions on how to test your wheel speed sensor.
Step 1: In order to perform testing it is most suitable to set up tools in an easy reachable fashion. As a safety measure ensure that your vehicle is parked and the handbrake is securely picked up. Proceed to use a jack to lift your vehicle so that you are in the appropriate position to perform testing.
Step 2: Carefully remove your vehicle's tyre and locate the wheel speed sensor. Find the electrical connector that is usually found at the frame of the tyre- refer to your vehicle owner manual if you are experiencing difficulty with identifying the connector. Unlock the safety clasp to disconnect the wheel speed sensor. By doing this you are able to test from the necessary terminals
Step 3: Securely connect your voltmeter alligator clips to the newly available terminals. Ensure that the voltmeter probes do not come in contact- as contact may result in incorrect readings. Ensure that the voltmeter is placed on a solid surface when testing is performed for more accurate reading. Turn on the AC (Alternative Current) voltage.
Step 4: Spin your vehicle's tyre/hub and monitor the readings on the voltmeter. A stationary tyre/hub will read as zero on the voltmeter.
Testing Result: Receiving a voltmeter reading indicates a good wheel speed sensor, therefore no reading on the voltmeter indicates a faulty part that requires replacing.
Shopping for a new wheel speed sensor is made more convenient with AfricaBoyz Online. If you're looking to buy Wheel Speed Sensor, call us today to set up delivery for your earliest convenience.
---