How To Identify Bad Control Arm Bushings
Created Date: 2021-06-17 15:57:39
0 Comments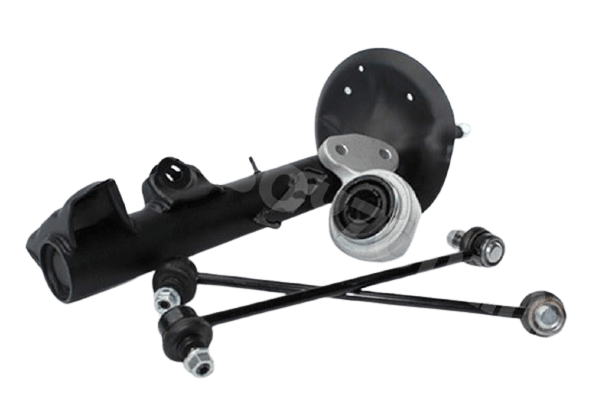 At AfricaBoyz Online we promote safe driving and all-round safety for you and your car so whilst bad control arm bushings are not necessarily dangerous, they can make your driving experience unpleasant if they malfunction and could lead to more serious complications. In this article, we will learn exactly what control arm bushings are, discover how to identify bad control arm bushings, and discuss when and where to replace them.
What are control arm bushings?
Control arms are significant car components as they connect your car's suspension to the chassis and are vital for your car's steering and suspension. There are usually two control arms in the suspension system - an upper control arm and a lower control arm. Control arm bushings are located at the joints between the upper and lower control arms and the car's frame.
The Main Purpose Of Control Arm Bushings
Control arm bushings are made from rubber or polyurethane and their main function is to cushion the car from small vibrations and bumps whilst also allowing your car to turn easily. They control the amount of movement in the ball joints and help with noise reduction.
The control arm bushings bear a large amount of stress with every drive and they wear and crack from friction, heat, age, and stress. When these bushings start to wear and go bad, your driving is greatly affected and is not as pleasurable or smooth due to the increased movement and metal-on-metal contact. You will find your car does not seem to absorb road shock and you will feel increased vibrations, noise, and bumps in the road whilst driving.
Common Symptoms Of Bad Control Arm Bushings
Steering problems are usually one of the first symptoms you will notice when the control arm bushings are damaged. The two main symptoms are vibrations in the steering wheel and a wandering steering wheel.
STEERING VIBRATIONS: You will feel vibrations in the steering wheel which will increase in intensity when you accelerate.
STEERING WANDER: The steering wheel may pull to the right or to the left whilst driving, which is called "wandering". The car may start leaning to one side when taking sharp turns as well.
UNEVEN TYRE WEAR DUE TO MISALIGNMENT
Worn bushings can also cause the car's front end to slip out of alignment which will cause premature tyre wear. Worn bushings cause misalignment as they are no longer holding the car frame and control arm tightly together. There is too much motion in the system and your car wheels become misaligned which will, in turn, lead to uneven tyre tread. Check for unusual wear patterns or uneven wear on the inside and outside edges of your tyres.
CLUNKING SOUND WHILE DRIVING
When the bushings become loose, you will hear a knocking clunking sound from the control arm. These sounds will be loudest when taking off from a standstill, going over a bump, braking, or making a hard turn. This is the control arm bushing being knocked between the frame and the control arm.
If the bushings are worn you will hear a slight clunking sound which gets louder and more consistent over time or when driving over rough terrain.
When your car has instability in the suspension and steering components, problems with braking can arise. The braking will become unstable and you will feel this more when you have to stop the car suddenly.
When you suspect a worn-out bushing you must get it replaced immediately, before it causes damage to other suspension components which could result in an expensive repair. It could also lead to a dangerous steering malfunction and you will lose control of your car's direction. It is considered best practice to replace bushings once a year as they wear out pretty quickly.
Where Is The Best Place To Buy Control Arm Bushings?
Africaboyz Online stocks all car parts for all cars at really affordable prices. You can find our control arm bushings under the Suspension and Arms category and you can do more detailed searches from there.
https://africaboyzonline.com/mercedes-w202-control-arm-bush-kit
https://africaboyzonline.com/mercedes-w211-control-arm-bush
Once you have successfully ordered your required parts, we will deliver them straight to your doorstep or even to your mechanic.
What Will It Cost To Replace Control Arm Bushings?
The cost depends on the make and model of your vehicle and the labour costs involved in replacing them as it is best to leave this job to an experienced mechanic. Ask your mechanic to check the ball joints as well when they are replacing the bushings. It is recommended to replace all of the bushings at the same time when one is worn as the others will soon wear too.
You may also need to replace other suspension components simultaneously or have an alignment done which will increase the cost.
Reference 1: https://www.bluestar.com/get_informed/article/the-purpose-of-control-arms-bushings-ball-joints
Reference 2: https://cartreatments.com/control-arm-bushing-symptoms-and-cost/
---